Festival Condos
Festival in South VMC is set to become the entertainment capital of Vaughan. One of Canada's largest master-planned communities brought to you by Menkes and QuadReal.
Festival will be a multi-faceted, mixed-use community unlike anything else in downtown Vaughan. Located in the South VMC, Festival will be within walking distance of the entertainment and employment hubs of the city. Beyond Festival's doors, residents can experience diverse activities for every mood and interest. Cultural arts, shopping excursions and vast parks and attractions are minutes away. Whether residents are utilizing the exclusive amenities inside Festival's expansive, multi-layered towers, or expanding their horizons, every day will be a celebration of life, diversity and new experiences at Festival.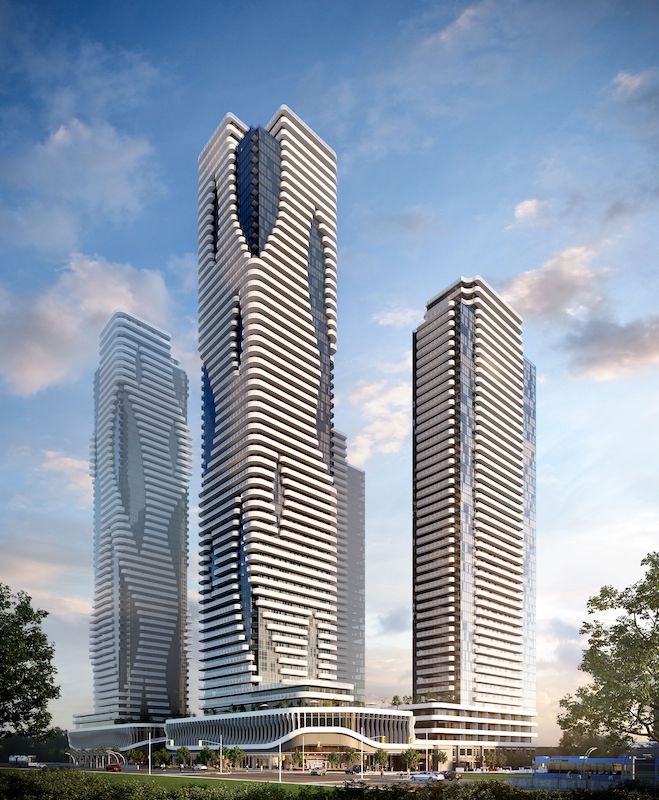 Signature Towers in South VMC
South VMC is quickly transforming into a prosperous downtown in Vaughan, with Festival designed for a diverse population. Seamless transit access and new commercial development close to major highways create a hub of employment opportunities that will be central to Festival residents. Festival is set to be the new landmark in South VMC, becoming a hub of culture, convenience and entertainment. With premier shopping, lavish food options and every modern service imaginable, Festival will set the standard for new, urban districts. For the growing population of professionals seeking a work-life balance, Festival will offer a variety of in-suite designs in a welcoming, multi-dimensional community – surrounded by South VMC's expansive amenities and green spaces.
Gateway to the Future
Festival's platform will host state of the art amenities, curated shops and captivating dining. Connecting the towers will be an immersive pedestrian bridge, with remarkable outdoor elements, serving as a gathering space for residents to relax while taking in the full retail experience. The architecture of the bridge features a unique curving, fin-like design, creating a powerful contrast to the glass structures soaring above.
Acting as a gateway into South VMC, Festival's platform truly uplifts its striking towers, allowing this new landmark to take centre stage in downtown Vaughan. Residents will feel they're so much more than homeowners – they're members of a thriving community.
Deposit Structure
$5,000 on Signing
Balance to 5% in 30 days
2.5% in 90 days
2.5% in 180 days
2.5% in 370 days
2.5% on March 1, 2022
5% on January 6, 2023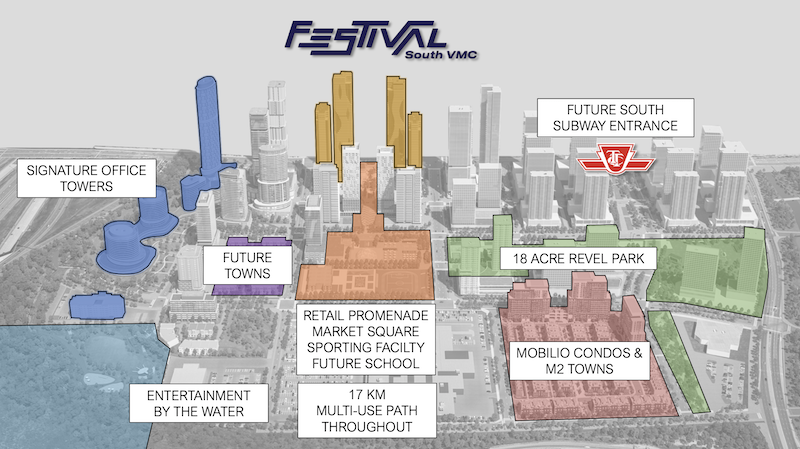 VMC Subway: 3 min walk
Highway 400: 1 min drive
Highway 407: 1 min drive
York University: 6 min subway
Union Station: 40 min subway
Pearson International Airport: 15 min drive